My rating: 3 of 5 stars
Actual Rating: 3
---
I didn't write official reviews for the first two books. I just didn't think I'd have enough to say.
Now, I'm not even sure what to feel. I don't think this was quite the finale I had wished for. Yes, there was closure, but I didn't connect much with anything else.
The Midnight Star picks up where The Rose Society left off. Adelina is now queen, and she rules with fear. But then she gets a note from an old friend enemy, which once again calls her back to where it all began – with the Daggers. She's got a new mission now, with allies she doesn't quite trust and a cause that she doesn't quite believe in. Meanwhile, her uncontrollable illusions are getting worse by the day, and the nightmarish pain Adelina had loved to inflict on others has become her own.
The first half of this book was so slow. It was full of Adelina's internal conflict – the same back and forth that appeared in the prequels – and there are no words to describe how repetitive it became. And maybe, for Adelina, it was a constant battle, but for me it felt like: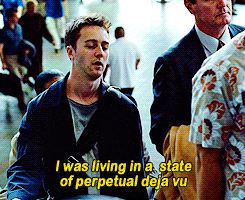 Going along with that is the issue of Adelina's character arc. Yes, she changed. But there was no real progression. There just didn't seem to be a point to it.
I'm not sure where the emotional climax was. The first two books of this series were meant to build up Adelina's character and define her, clearly, as an anti-hero. And yet, in this book, her character seemed oddly dimmed down, aside from the random uncontrollable illusions that happened every few pages or so (too much, I tell you). The Young Elites and The Rose Society had power-hungry, greedy, vengeful Adelina – I just didn't quite feel it in this one.
And Magiano. Magiano, Magiano, Magiano. How I adore(d) you. But you can do much better. I had shipped Adelina and Magiano to death in book two. But in this one, it just wasn't there. Magiano didn't really seem to have the sort of spark to his character, and the relationship between the two didn't seem authentic or developed. It felt a little like the author went, "Oh, this is a YA novel – it's got to have some romance…let me just toss in this kiss scene."
The writing style was pretty engaging, as usual, but I felt like the slow beginning of the book really worked against it. The style worked extremely well towards the end, and like so many other readers, I enjoyed the ending, although it was predictable. (And to add to that, I think I would have enjoyed it more if I had been able to feel more invested in the story.) I still thought it was a great ending to the story, but I wanted a heart-breaking, gut-wrenching, tear-jerking ending, and all I really got was a weak tug at my heartstrings.
---